Ya Dom (Inhalers): the ultimate item that Thais hold dear to their hearts (and noses)
1 December 2022

Posted by:

UNIT

Category:

Articles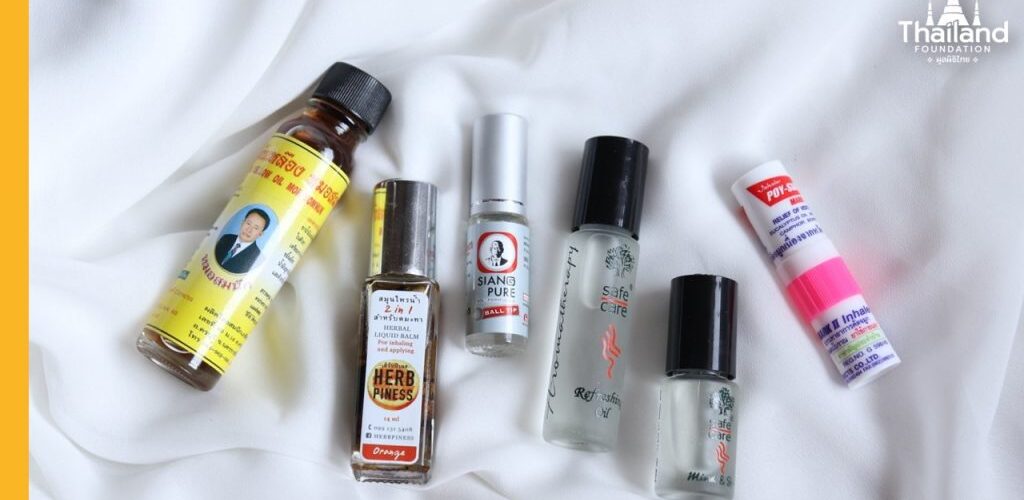 You might have seen Thai people stick this little tube up their noses. It is literally everywhere from streets to meeting rooms, but what is it?
When dizziness and nausea hit, the first item that the Thai people think of before any other medicine is "ya dom." This little magical tube will bring them back when they are about to faint and fall on the ground. The refreshing scent of ya dom repels the pain of headache or numbness almost immediately. For some people, ya dom is not just a household medicine, but a must-have item whenever they leave the house. Knowing that they can grab a ya dom from a handbag or a pocket gives them a peace of mind. You can call this a "Thailand Only" behavior, a scene that amazes foreigners whenever they see it. If you are a tourist looking for authentically Thai souvenirs for friends or relatives back home, make sure you buy some ya dom.
What is ya dom?
Ya dom (ยาดม) is translated to nasal inhaler. "Ya" means medicine and "dom" means to smell. Ya dom is prescribed as a generic household medicine under the order of the Thai Ministry of Public Health B.E. 2550 (2007).
Brief history
Humans began employing aromatherapy, the use fragrance for medicinal purposes, 6,000 years ago according to the evidence found in Egypt and China. In an ancient Chinese medicine book, it was recorded in 2700 B.C.E. that the Chinese were able to extract more than 300 aromatic substances from plants. In the Thai society, aromatherapy became popular during the reign of King Rama II (1809-1824) according to a composition called Nirat Phukhao Thong (นิราศภูเขาทอง) by Sunthorn Phu, in which the King's favor of fragrance is mentioned. Some of the vintage brands of nasal inhalers in Thailand, such as Poy Sian, have been around since 1936 and remained popular across Thailand ever since.
What is it made from?
This portable fragrant stick, and also in other forms, is made from local herbs. Some key ingredients include menthol crystal, peppermint oil, camphor, and borneol oils. The scent of inhalers can be designed differently depending on the type and amount of essential oils used. The ancient Thai inhaler, especially in the central region, was made from the skin of a type of citrus known as Buddha's hand (in Thai called "Som-O-Mue" – ส้มโอมือ). Later, borneol, camphor, and menthol were added to enhance the cool aroma and medicinal properties, each with distinctive scents and properties as follows:
Borneol is a fragrant substance that helps relieve dizziness. It is used externally to treat wounds, and if taken orally, helps release trapped gas and gas pain, and relieve stomachache. (but don't go ingesting ya dom!)
Menthol is derived from peppermint oil and used as an external remedy to relieve pains and kill germs. If ingested, it helps release trapped gas as well (but do not go ingesting Y.
Camphor is a small and dry crystal. The crystals easily clump together and break off easily. If left in the open air, it will evaporate completely. Camphor, with its hot and strong taste, can be used internally to clear phlegm and trapped gas, relieve coughing and stomach pain. As an external medicine, it relieves muscle pain and neutralizes insect bites.
Nowadays, ya dom comes in a variety of forms: ya dom stick, cotton soaked in essential oils packed in a small container, dry ya dom pieces of dry herbs in a bottle, liquid ya dom (yellow herbal oil, or liquid borneol, etc), and balm. Each form has different usages and advantages, but the most common and ubiquitous form is ya dom stick because it is small and easy to carry with you. It can be found everywhere from village grocery shops to luxury department stores. The inhaler tube is designed for a two-way usage. One side is a cotton ball dampened with essential oils and packed into a tube for inhaling, and the other side is a small cup of liquid essential oils, which releases droplets. You can pour it onto a handkerchief or pillow on rub it directly on the skin. The liquid ya dom often comes in a form of tube or stick with a roller head. For those who do not mind the large size and have a lot of storage space in their bags, they can opt for a bottle of dry ya dom or balm, which usually comes in a bottle that perfectly fit in the palm of your hand. As soon as the lid is opened, a fragrant aroma bursts out so you can take a full deep noseful whiff.
Why is ya dom so popular?
Herbal inhalers are officially classified as traditional medicines in Thailand. When modern medicine entered Thailand, the use of herbal medicines and Thai traditional medicine began to decline, but the popularity of inhalers was not affected. If you've ever tried sniffing Thai herbal inhalers, you will see why it is so popular. The natural hot and strong, yet clean scent of herbs helps cure nasal congestions, relieves stress, and makes you feel relaxed, especially in tropical Thailand where people need constant freshness to combat heat. When you're at work and encounter mental blocks, take a sniff of ya dom, it will clear your mind too.
The inhaler is a classic and timeless product. For the Thai people, even though ya dom has been around for a very long time, we have never viewed it as an antique object or that people who use ya dom are old-fashioned. Nowadays, from elementary school students, high school students, university students, working people, to the elderly, we all use ya dom. Young, modern-looking people even keep ya dom with themselves when they are having fun in entertainment venues. When using public transportation, ya dom is a great item to mask the smell of car exhaustion or pollution. It's a truly versatile item to calm your mind and help you think straight in any situation with just one whiff.
Additionally, a research finding from Kasetsart University shows that more and more people are returning to herbal medicines thanks to the rising trend of health care and organic products..
How to use ya dom?
As mentioned earlier, you can find ya dom in almost any store, and you can even place an order online. In a convenience store, you'll normally find it near the cashier. Once you've bought it, it's time to use it, but keep in mind that moderation is the key. This is because menthol and camphor may contain certain chemicals that affect the nervous system. However, it is not dangerous and does not have the withdrawal symptoms that are as severe as drugs or cigarettes. At most, you will develop a habit of inhaling ya dom all the time. Since ya dom is a popular and useful generic household medicine, the Food and Drug Administration has given a guideline for a safe use of ya dom as follows:
You can take a deep whiff but avoid direct contact between ya dom and the nasal cavity.
Avoid sticking the ya dom tube into your nose as it may cause irritation.
Avoid sharing the ya dom tube with others as it may cause infection.
Ya dom only provide a temporary relief to dizziness, lightheadedness, and nausea. If symptoms are severe and persist, see a doctor.
In order to use a liquid ya dom or balm, rub or drop ya dom on a cotton ball or a handkerchief, or apply a thin layer on the chest, and inhale the vapors.
People with nasal cavity diseases should avoid using ya dom because it may cause irritation.
Some famous brands
Khun Luang – This brand is outstanding for its extremely strong scent. Most users say that if you want to think straight, Khun Luang is the go-to brand.
Peppermint Field – This brand is known for its milder, cooler, and more refreshing scent.
Vapex – This brand is very useful when you are having allergic reactions to dust or a runny nose. Sniff this ya dom once, and the symptoms will disappear into thin air. The smell is quite strong, but because of the strength, it works so well.
Hong Thai – This brand comes in three versions: glass bottle, green bottle, white bottle. If you are about to faint, smell it and the problem is solved!
Som-o-mue (Buddha's hand inhaler) – This is a royal ya dom recipe passed down from Chao Chom Mom Ratchawong Sadap Ladawan, the royal concubine of King Rama V (1873-1910). This vintage inhaler, known for its sweet and fresh scent, remains popular to this day.
Siang Pure Oil – The scent of Siang Pure Oil is truly unique, relaxing but not overpowering. You can inhale it again and again, but do not apply it on your nostrils since it can be very hot.
Somthawin Yellow Oil – This brand is a rare item. If you see it, stock it up.
Khun Prema – A dry variation of the ya dom and another rare item. It is very hard to find, but the properties are second to none.
Values
If there is a lesson we can draw from ya dom, it is that not all old items have to be obsolete as long as their purposes are clear and they know how to adapt with times. The Thai people learn to customize their local medicinal knowledge to modern street and office lifestyle to combat heat, fatigue and drowsiness.
We apply our creativity in packaging designs and create different scents and brandings to give consumers choices. At the same time, some older brands insist on being themselves, never rebranding, because they know what their value is and what their customers want. This is how the old exists with the new in the Thai culture.
Today, there are many different types of ya dom on the market, not limited to the Thai recipes and ingredients. We see Chinese inhalers like Siang Pure Oil or medicinal ingredients from the west like menthol. All are fused together through the Thai style of usage. Yes, we are talking about the playful gesture of sticking a ya dom tube up the nose. This is the openness of the Thai people to diversity. All is embraced in a small item called ya dom.
The story of "Ya Dom" is another quirky, yet charming, facet of Thai culture and heritage. This beloved household medicine is a testament to how Thai culture adapts and thrives through the value of openness. Join us in exploring more stories of Thailand and the Thai people, as we take you on a journey to discover Thainess.
Sources