Open to Love – Valentine's Day in Thailand
1 December 2022

Posted by:

UNIT

Category:

Articles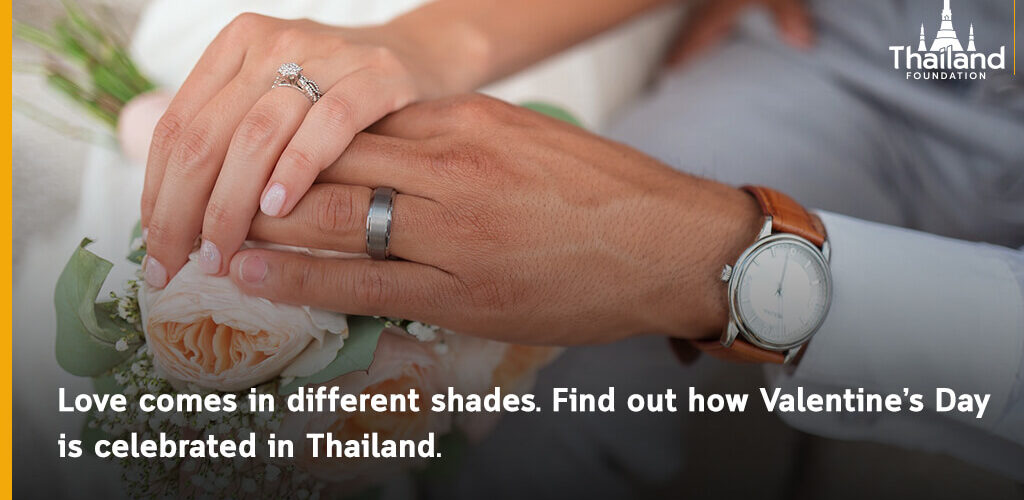 Apart from being a universal language, love possesses such a great power that border, race, religion, or distance can never stand in its way. As long as love remains a spiritual nourishment and a dream that everyone pursues, the celebration of love will continue to be an accompaniment of the human society. And what is the biggest love festival of all? Yes, it's Valentine's Day.
How to Celebrate the Festival of Love in Thailand
Since the Thai people are open to different cultures, we are able to enjoy light decorations, music and multicultural celebrations all year round. And if Christmas and the Chinese New Year are celebrated in Thailand, the Valentine's Day must definitely be on the list. Thais have fallen in love with Valentine's Day for its charm that is so refreshing in many ways. In the modern, fast-paced lifestyle, the festival of love serves as a short break for couples to spend time together, and do simple but cute activities like having a meal, picnicking, exchanging gifts, or going on trips. Even families, groups of friends, or even single people can enjoy this festive atmosphere thanks to department stores and various business sectors that never miss the opportunity to be a part of this joyful occasion by offering products, services and promotions tailored to all kinds of love, self-love included.
High-schoolers often celebrate the special day by giving stickers to each other
When it comes to Valentine's Day in Thailand, it will feel like you are wearing pink lenses all the time because the streets and buildings are decorated with pink and red hearts. People are smiling. Some are enjoying a meal. Some walk, holding hands or a large teddy bear, some with a bouquet of roses, or a box of chocolate.
If you have the opportunity to spend time with your special someone in Thailand during Valentine's Day, you will find countless choices of lovely, fun and memorable activities. Let's begin with the essential, flowers. You can go straight to Pak Khlong Talat. At this vintage flower market, you can shop for flowers early in the morning or take photos with those fragrant blossoms. Although during the Valentine's week the price of flowers will go up as the demand increases, the large flower market of Pak Khlong Talat will surely have what you are looking for.
You may consider going to a temple. It may not sound romantic, but Thais believe that making merit, praying, or listening to Buddhist teachings together will strengthen the love of couples or even if they are separated, fate will reunite them. Alternatively, you may pay homage to the Trimurti Shrine at Ratchaprasong Intersection. The Trimurti is the triad of the three supreme gods of Hinduism: Lord Brahma (the Creator), Lord Vishnu (the Protector) and Lord Shiva (the Destroyer). A number of Thais worship the Trimurti as the god of fertility who brings good luck in health, work, finance, and particularly love. During the festival of love, single people will go there hoping that the God will help them find their soul mates. Those who are already married also pray for their love to be strong. If you are more adventurous, try celebrating Valentine's Day or registering your marriage underwater at Trang Underwater Wedding Ceremony. Married couples are also welcomed to relive their big day in a different way.
And if you can take a few days off work, traveling to provinces is a great idea. Thailand has beautiful and romantic attractions in all regions. If you like beaches, try Koh Kham in Chonburi, or watch the sunset at Laem Phromthep in Phuket, or Khao Sok National Park in Surat Thani. If you like rivers, stay at popular homestays along the Klung River in Chantaburi, or sleep on floating hotels on the River Kwai in Kanchanaburi. For mountain lovers, go camping in the mist at Pang Ung, Mae Hong Son, or at Kew Mae Pan in Chiang Mai, or stay at a chic resort in Suan Phueng, Ratchaburi. And if you like fairytale meadows, we recommend the grass mountain in Ranong, which is lush green during the day and turns golden under the evening sun. The tea plantation in Chiang Rai is also pretty chic.
Love and Pride
Not only race, language and distance, but gender is also no barrier to love. Thailand is one of Asia's most LGBT-friendly nations. Members of the LGBT community, both Thais and tourists, can live in Thailand as openly and freely as people of others genders. Moreover, they are respected and proudly hold important positions in various industries and social sectors like entertainment, business, academia, politics, sports, and culture, you name it. We even had a prime minister candidate who is a transwoman. Thailand is also among the top destinations for those looking for gender reassignment surgery and medical services for LGBTs, and has become a refuge for transgenders and homosexual couples who are not accepted in their own home, not to mention the fact that Thailand is the organizer of popular transgender beauty pageant contests, including Miss International Queen since 2004 and Miss Tiffany since 1998. All of these reflect the openness that the Thai society has for members of the LGBT community.
Legal rights
However, we still cannot say that Thailand is a 100% LGBT paradise. It is more accurate to say that Thailand is putting a lot of effort into reaching that status. In Thailand, there are now laws to prevent discrimination against LGBTs in workplaces, business establishments, and other areas. Gays and lesbians can openly serve in the military, and individuals have the right to receive a sex reassignment surgery. But just like everywhere in the world, there are still Thais who cannot comfortably accept LGBTs but at least their level of dissatisfaction in the society is not alarming.
Recently, there has been a hot debate about LGBT rights in Thailand after the Thai government agreed to consider the same-sex civil partnership bill. On the one hand, this act is considered a good start because up until now, the married life of LGBTs has never been legally approved, but this civil partnership act, if finally enforced, will allow LGBT couples to register as partners. And although the Thai law has yet to allow equal marriage for all genders, this act will at least make Thailand the first country in Southeast Asia to recognize same-sex partnerships and allow the couples to manage each other's assets, adopt children, sue third parties on behalf of their partners, inherit wealth in the event of the couple's death, and most of the rights that heterosexual couples enjoy.
However, a number of LGBTs believe that they should be able to "marry" just like heterosexual men and women, and this act is actually not necessary. They propose to amend Section 1448 which states that only "males and females" can marry equally by changing the words in the bracket to "people of all genders." Currently, the same-sex civil partnership bill is still waiting for consideration from the House of Representatives. Once approved, the bill will be forwarded to the Senate for final consideration.
Love is Color Blind.
Marriage between Thais and foreigners has been around for a long time, including marriages between Thais and Chinese, Indians, Europeans and Africans. The largest percentage is the intermarriage between Thais and Chinese. There are approximately 10 million Thai-Chinese, accounting for 11–14% of the country's total population (statistics from 2012), excluding many more that are difficult to identified due to their seamless integration with Thainess. We can find the Thai-Indian community, consisting of Sikhs, Brahmins-Hindus, and Indian Muslims, in the areas of ​​Phahurat, Hua Lamphong, Sukhumvit, Ban Mo, Ban Khaek, and etc.
Thai royalty Prince Chula Chakrabongse (himself half Ukranian) with his English wife, Elizabeth Hunter
The children who are products of biracial love are called luk khrueng in Thai (luk = child, khreung = half) which means "half-kids" (being half Thai and half other). Though the common image of a luk khrueng is someone with mixed Thai and European ancestry, the term is actually used to describe all people born from a Thai parent and a parent of different race (such as Thai-Chinese, Thai-Japanese, Thai-Korean, Thai-Lao, Thai-Indian, Thai American, Thai-Arab, Thai-Senegalese, etc.). During the Vietnam War, many Thai-European children were born from Thai women and American soldiers or GIs. Nowadays, most of the Thai-European luk khrueng in Thailand are products of marriages between Thais and Europeans who come to work and decide to live in Thailand, and vice versa. Many of these luk khruengs went on to become prominent figures in the Thai public.
As mentioned, whether they are half-kids or LGBTs, everyone is welcomed as members of the Thai society. Today, we can see many half-kids appearing on the media as celebrities, for example Florence V. Faivre (Thai-French actress and model), Mario Maurer (Thai-German actor), Yaya Urassaya (Thai-Norwegian actress), Nadech Kugimiya (Thai-Austrian actor), Tiger Woods (Thai-American golfer), along with many beauty pageant titleholders, like Maria Poonlertlarp (Thai-Swedish), Amanda Obdam (Thai-Canadian), Anchilee Scott Kemmis (Thai-Australian), to name a few.
Love is solidarity.
Beside romantic love, there is community love. Since people in Thailand have the right to practice their religion, in each province, we can see places of worship of Buddhism, Christianity, Islam, Hinduism, Sikhism located side by side. In Chiang Mai, there is a 700-year-old community with admirable religious harmony known as the Wat Ket community. Situated along the Ping River, the Wat Ket community was once an important port city when Thailand (Siam at that time) was still trading with the Lanna Kingdom. Later, it became the hub of people of various races and religions. In this community, there is the First Church of Chiang Mai located not far from Wat Ketkaram Temple where you can find a Sikh temple sharing the same wall. And if you walk down the road in front of Wat Ketkaram Temple, you will find the Attaqwa Muslim Community, a mosque, and the first religious school in the northern Thailand called Jitphakdee School. Love and solidarity of the Wat Ket community can be best observed on important religious days when all religious groups in the community will attend or even participate in the ceremonies. They are the living proof that difference is synonymous with unity.
Another community where diversity coexists peacefully is the ancient Portuguese community of Kudeejeen in Bangkok. At this place, Thais, Portuguese, Chinese and Indians have lived together for a long time. The highlight of the Kudeejeen community is the Santa Cruz Church (also known as the Kudeejean Temple) built in 1769 and a Victorian pavilion decorated with beautiful stained glass. In this area, you can also find two Buddhist temples: Wat Prayurawongsawas Worawihan Temple and Wat Kalayanamit Woramahawihan Temple. The latter is the home to the largest bell in Thailand. The Chinese presence is evident in the Kian Un Keng Shrine, or the oldest Guan Yu Shrine in Thailand, flanked by the Kalayanamit Temple and the Santa Kruz Church. And the unmissable landmark is the Bang Luang Mosque, which is the only Thai-style mosque in the world, outstanding with bricks and mortar as the main construction materials, and wooden planks painted green. The dome shape is replaced with a sharp gable roof. The interior is stunningly decorated with three motifs: Thai, Chinese and European.
The Wat Ket community in Chiang Mai and the Kudeejeen community in Bangkok are authentic examples of love and solidarity among people of different religions. The diversity in belief and livelihood has forged a colorful and distinctive bond that brings the community together as one.
**********************
The path to healthy and lasting love must be paved by everyone. The celebration of Valentine's Day means so much more than just a sweet moment for couples, but a reflection of the openness of the Thais, and a reminder that there are many who are still fighting for love and the right to love equally. Over time, we have seen new sets of ideas about love find their way into our conversations and the parliament. Hopefully, Thailand can soon become a country that is truly open to new love without losing its long-standing social harmony.
Sources